Over the weekend at my Daddy's, I had every intention of finishing the Infinity Cardi. Best laid plans and all that... The arms kept giving me grief. Got part way done with the first sleeve then realized that there was no way I was going to be able to fix the boo-boo from setting in the sleeve cap no matter how hard I tried.
As I was sitting there ripping out row after row, someone in the room...might have been my Daddy, might have been my brother-in-law, not sure now...said something about me being an "armhole" and the conversation took a nose dive from there. Add that one to the "familiy-isms" file.
Tonight, however, is another story. Currently there are only about 20 rows left to the second sleeve and this thing is done! Sadly for you, that means only little glimpses tonight before the big reveal on Friday.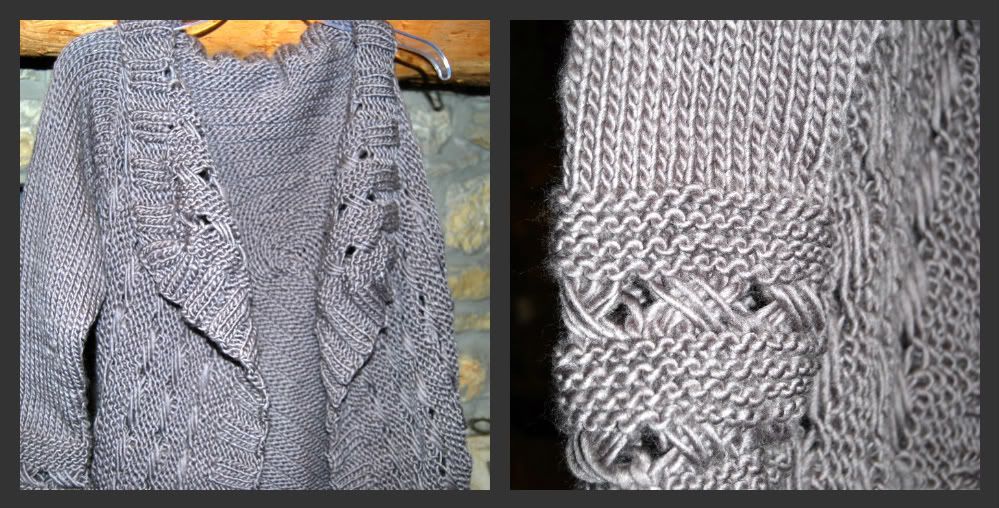 I have mentioned before that my family says the craziest things and then they stick and we repeat them over and over even if no one else around has a clue what we are laughing or talking about. Most people simply look at us and shake their heads. My "driver boy" contributed a great story for the family collection on Saturday while we were driving south. Before we left Saturday morning, a quick look at the weather indicated that it was likely we would be driving into some severe storms.
Somewhere outside of St. Louis, he looked in the rear view mirror and declared that there was a storm chaser vehicle coming up behind us. He was convinced that it was one. According to him, it was big, boxy, low to the ground, dark colored, and had an antenna on top. Guess it was possible, I've seen some pretty strange things on the interstate. It comes up beside us...and...1. It was a low to the ground boxy truck. 2. It was dark red (poor boy and his twin are color blind...explaining a lot of their clothing choices and propensity to coloring grass blue, etc, but that is an entirely different story). 3. It had a regular after market antenna stuck on top of the cab. I started laughing and as it passed thought I was gonna pee my pants from laughing so hard. On the back were a whole slew of bicycles. Turned to the boy and said, oh yeah that's a storm chaser all right...a Wizard of Oz one..."I'll get you my pretty!!!" Not surprisingly, that got me a "shut up Mom!"
Driving home Tuesday, I did run into some crazy wicked storms...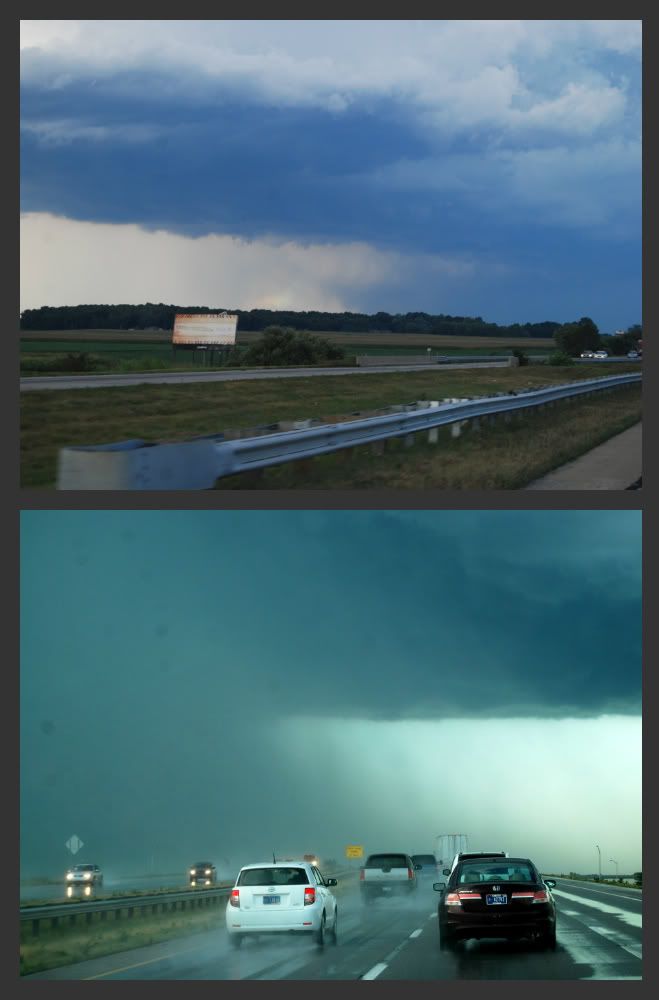 It is hard to tell in the bottom one, but it was raining on the left side of the highway and not on the right. Crazy stuff!
-------------------------------------------