except for maybe a whole lot of wishful thinking.
September and upcoming October have been and are going to be some fairly hectic months around these parts. Although my normal M.O. is to go at warp speed at multiple activities on a daily basis, there is a little bit more of a frenetic feel to my life of late.
My darlin' is gone for several days on a much deserved fishing trip to Canada with his cronies and I have a longer than normal list of things to get done while he's gone. Not going to happen.
September has been filled with project planning and getting geared up for the year with my Service League responsibilities. October is go month and will be crazy busy all the way around. Loads of things that excite me and make me happy. This weekend I will have the pleasure of making breakfast (cherry blintzes) for a good friend and then we are heading to Louisville to stalk check out an art show downtown where my recent favorite silversmith will be showing/selling his jewelry. Wes told me to be sure to pick out something he would pick for me. That's easy, as we both are drawn to the same pieces whenever we look at jewelry. Yay me!!...new jewelry!
Next weekend, my favorite older sister is coming to stay with us for a long weekend. Boy-howdy, do I ever have the weekend chok-a-block stuffed full of things for us to do. Not the least of which is a most awesome turn of events...she asked me to teach her how to knit wire bracelets!
The next weekend does not have any outside the house activities planned just yet. After that comes a long weekend with my oldest son, with a tentatively planned day trip to Chicago. Then we end the month with my in-laws' annual Weenie Roast/Bonfire. Add the weekday stuff that has to be done, plus some other additional weekday tasks and at this rate, I am going to be ready for the holiday season just to "slow" down some!
What does all this mean? My precious knitting, spinning, sewing time is taking a hit. Boo hiss. However, I did think of something, that I need to invent that would solve all the crafty crunch time.
Enter the Knitting Crock Pot! Wouldn't it be wonderful (just sometimes, since the process of doing is a lot of the draw to the craft) if you could just throw everything in your knitting bag, close it up, and 6 to 8 hours later open it to find the most wonderful of things all done?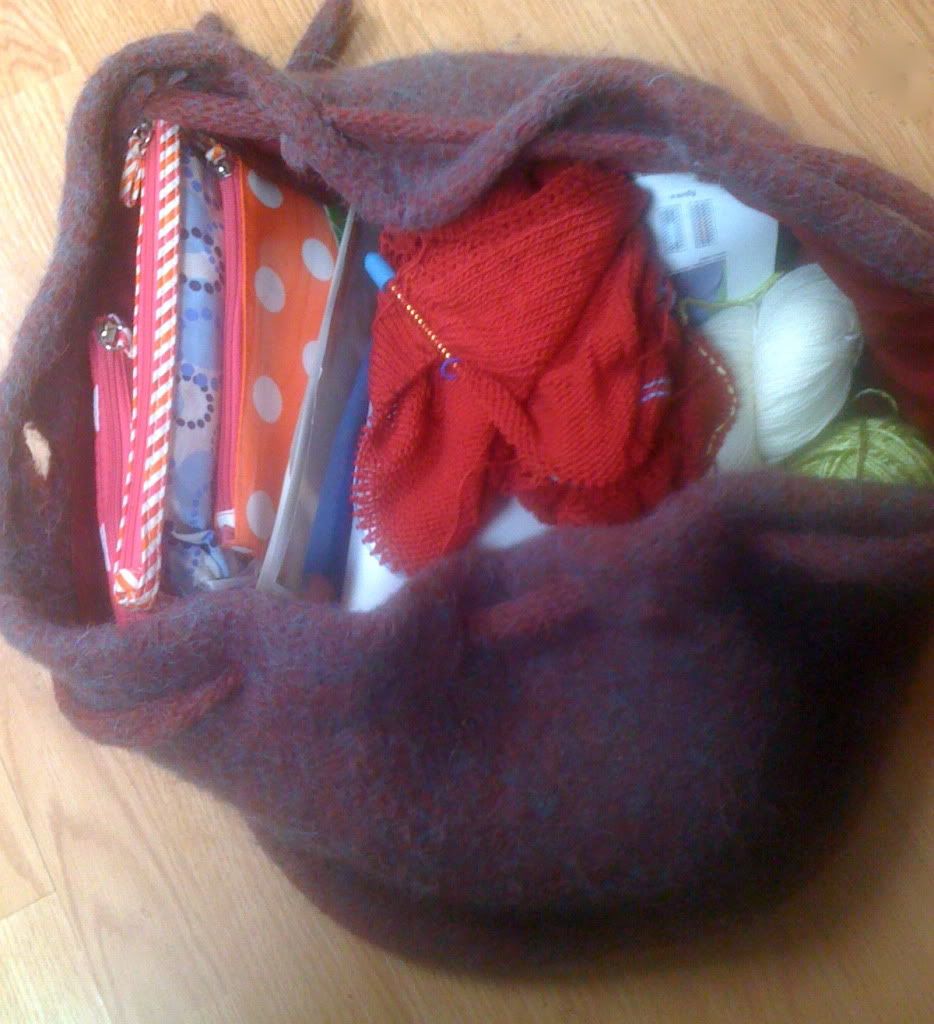 I think mine is broken :(
P.S. Don't forget to enter the giveaway...
___________________________