My Mama said it would eventually happen.
I did not believe her.
But it did.
So, sit down friends and family that know me well...
I have a confession to make, and it is a painful one.
I
like
tomatoes now.
There, I said it and the burden has been lifted from my tastebuds.
For the last year or so, I have been less and less diligent about removing fresh tomatoes from foods that are ordered at restaurants. (still don't think I am ready to leave the sliced things on my JJ #6 with extra sprouts)
Jane, a friend of mine, recently made a Caprese salad for a get together we were at. It was sooooooo pretty and had other things I like...fresh basil, fresh mozzarella, seasoned olive oil... I tried it. I liked it. I had seconds. Okay, actually, I think I had thirds.
Last weekend when I returned home from my monthly trip to Findlay Market (shout out to Tara for getting me hooked on this place and to Liz for being my co-visitor) and to Jungle Jim's to restock my meat freezer and to get some things I can't get here, I made my version of the salad. Wes and I both enjoyed it...tomatoes that I grew with thin strips of my home grown basil, fresh mozzarella pearls, rolled slices of what is THE.BEST hard salami ever!, and slices of crusty bread all drizzled with flavored olive oil. Our only complaint was that I was tired and took the easy road and made an infused olive oil that I normally use on pizza. It was good, but not exactly what we thought it needed.
Last night, as we were kid-less for the evening, we opted for a repeat of this meal but stepping it up a knotch and tweak the oil.
By George, I think we've got it!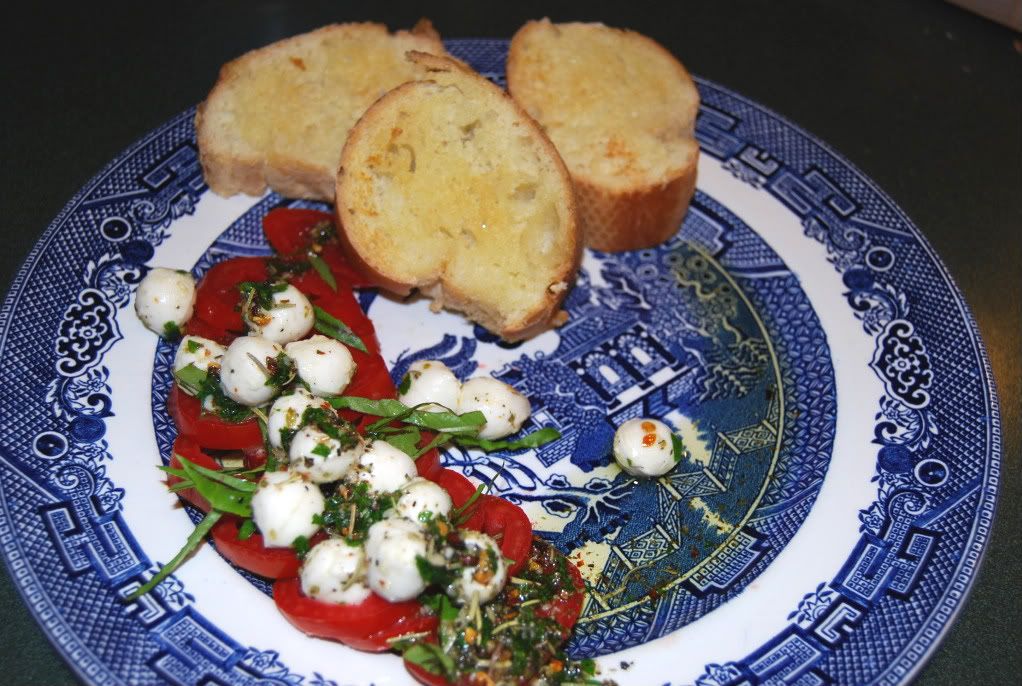 How to make the olive oil sauce:
Mince 2 or 3 cloves of garlic and roast (on parchment paper) in a 350 degree oven until golden brown and slightly crispy. Watch carefully as it goes quickly from golden brown to charred, trust me on this.
In a food processor, add 1 tsp each of rosemary, parsley, oregano, and fresh parmesan. Then add 1/2 tsp ea of red pepper flakes, kosher salt and fresh ground pepper. Pulse until well ground/chopped up. Add to about 1/2 cup good EVOO. Add the roasted garlic. Mix well and let it sit and be happy for a little while. Drizzle over the tomatoes, fresh basil and mozzarella.
I marinated the mozzarella pearls in the oil mixture also.
The only thing missing was the salami. I forgot to get any out of the freezer :(
Fresh sliced tomatoes...good.
Raw sliced onions...don't count on it.