It is approaching that time of year where cooking gets more intense around here. If topics of "blogger-sation" are any indication, most people feel that way.
When it is cool and the air is crisp, there is nothing better than sitting down to a steaming bowl of rich soups or platters of pot roast and roasted vegetables.
It also means that I am in more of a mood to share recipes on a more regular basis.
What was for dinner last night?
Basil Pesto Cream Reduction on Ravioli topped with Pan Seared Shrimp and Crumbled Pancetta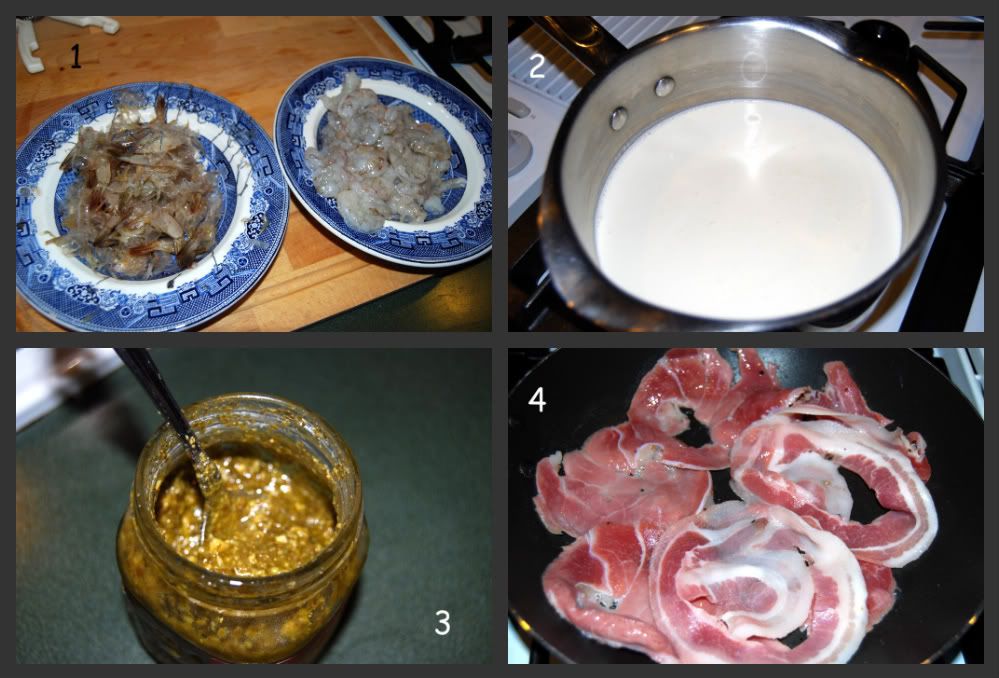 This is super easy and fast, especially since I cut a couple of corners by using some conveneince items.
1. Peel and de-vein about 45 medium shrimp (I only used 30 for this recipe...saving the rest to go in Gumbo on Tuesday night)
2. In a large sauce pan, pour 2 cups heavy whipping cream.
3. Cheat and use prepared Basil Pesto. Put 4 generous tablespoons in the cream. Heat to simmer and continue simmering until the liquid is reduced by half.
4. Cook 1/4 pound thin sliced pancetta. Drain and crumble when done.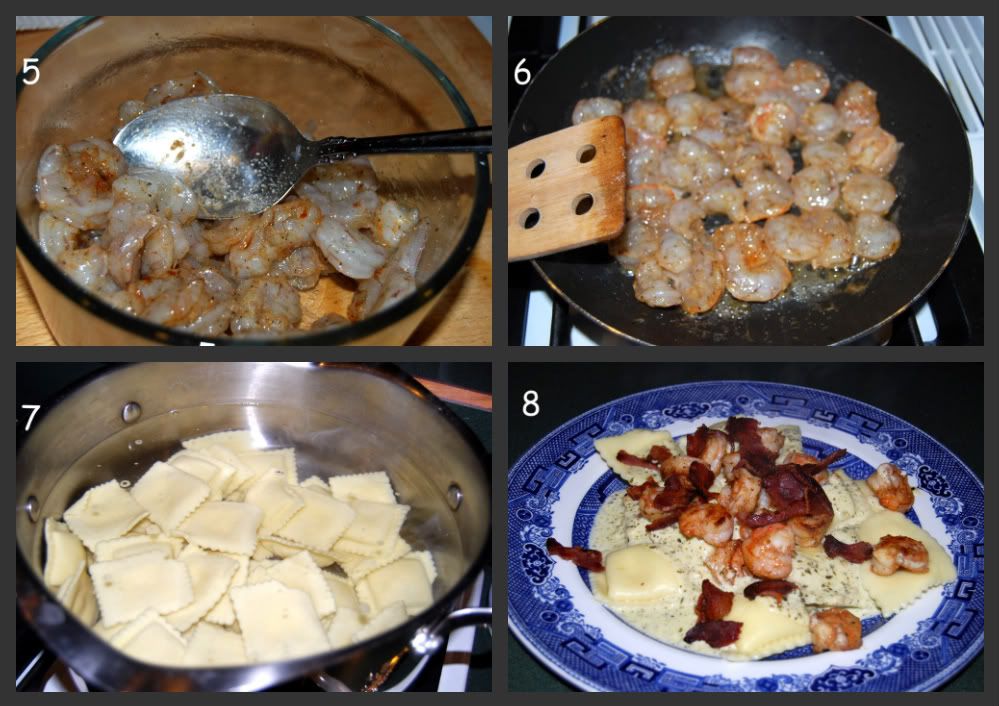 5. Lightly season shrimp with a sprinkling of salt, cracked pepper, garlic powder, and paprika. While this is going on be sure that you have started a pot of water for the ravioli. When it is at a rolling boil proceed with steps 6 and 7 simultaneously.
6. Cook the shrimp at medium high heat in the same skillet used for the pancetta. Remove some of the grease if it looks like too much. While the shrimp are cooking, drop the pasta in the boiling water.
7. Cook the ravioli (cheated and used ready made instead of making from scratch...that would be just too much for a Monday night). The ravioli and shrimp will be done at about the same time. It will take about 7 minutes...the ravioli will begin to float and the shrimp will be nice and pink.
8. Plate up and ladle the sauce over the pasta, throw some shrimp on, sprinkle with crumbled pancetta, maybe add a bit more sauce and some freshly grated Parmesan cheese and savor every mouthful.
This whole meal takes about 30 minutes (give or take depending on the shrimp situation at the start)
Enjoy!