Not a fan of black beans. There is no rhyme or reason to this dislike. It just...is.
My sister has been here for the last few days and we have been having a wonderful time. She has been attempting a vegan lifestyle since April, but does resort to basic vegetarianism when faced with the difficulties of eating out...and when eating at her omnivore sister's house.
I did try to accommodate her wishes, which was pretty simple to do as she is flexible about this topic. Her eating choice is a matter of health practices rather than other reasons.
The recent renewed interest of mine in the Southern Living Cookbook that has been languishing on my china hutch provided an opportunity for me to try something I have previously professed to dislike and for her to try another recipe. Naturally adjustments had to be made to it to suit the cook's issues. This recipe is super fast. It only took about 25 minutes (the longest part was waiting for the rice to be done).
Black Beans and Yellow Rice
1-5oz package saffron rice mix
1-15oz can black beans
3 tablespoons lime juice (I was out and subbed in lemon juice)
1 teaspoon chili powder
1/2 teaspoon cumin
2 tablespoons chopped fresh cilantro, divided (thanks to obnoxious chipmunks, my cilantro was long gone from the back porch. I subbed in fresh parsley from the pot that is now living in the family room...HA take that chipmunks!, but the cilantro would have been better)
Optional garnishes: salsa, sour cream, grated cheddar cheese
Cook rice according to package. Meanwhile, drain beans, reserving 2 tablespoons of the liquid. Combine beans, reserved liquid, lime juice, chili powder and cumin in saucepan. Cook over medium heat until thoroughly heated, stir in 1 tablespoon cilantro. Serve beans over rice and sprinkle with remaining cilantro.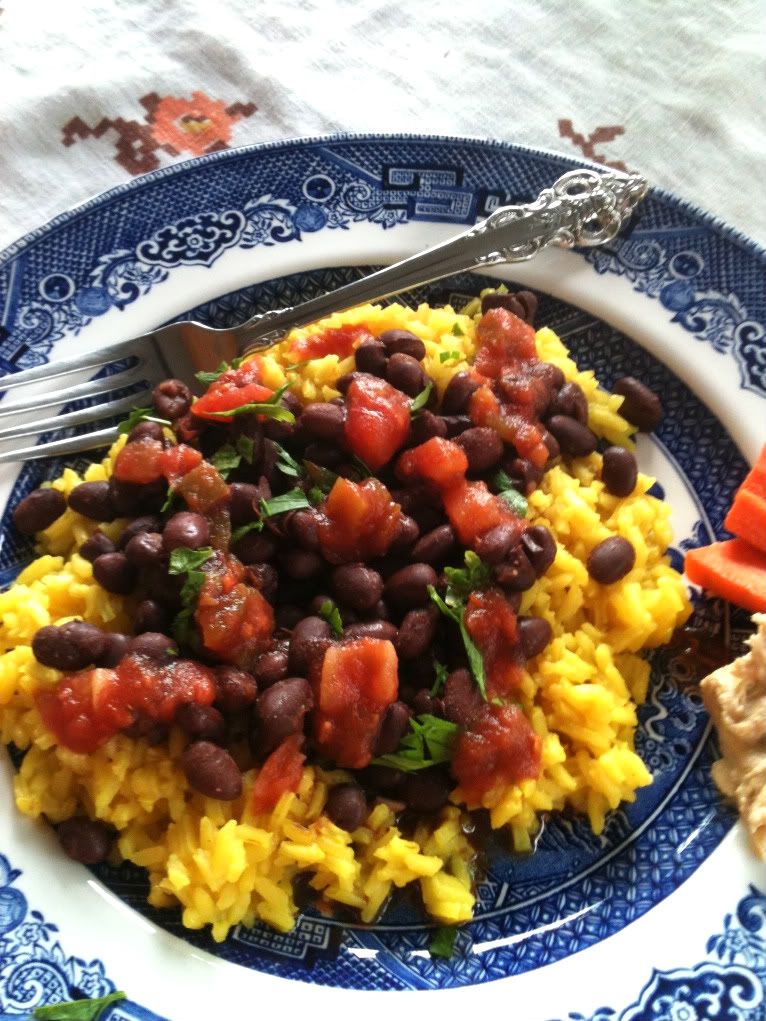 Would I make/eat it again? Yep, it was good enough to make the blecchy girl say yum to black beans.