First, I apologize for the even less than stellar crappy photography than normal. My only excuses are: 1) I have a horrible headache likely brought on by the vast clouds of dust being stirred up by my dearest as he guts the garage and creates his dream fishing/woodworking/car tinkering/actual car parking/storage garage...I keep going out there and talking/helping so it's my own fault. 2) I forgot to take pictures last night with the real camera. 3) Had to resort to using my cell phone camera on the less than awesome desk surface with the unforgiving light <read that as too lazy to go outside and stage the pics>. and 4) My best attempts are not that stellar on a good day!
With all the "life" getting in the way of knitting lately, my fingers have been churning out little baby bits since they are relatively fast and easy (assuming the knitter follows the directions instead of trying to out-think a bootie). In case you were wondering, Dahlia is still on the needles, but am currently in stockinette hell due to being on row 58 of 90 for the first side. Plus, the baby stuff has a deadline...I promised to make these items for my sister to use as a gift. We agreed upon 7 pairs of booties and I got sidetracked with a little sweater and then stuck in Indecisive Land trying to choose JUST 7 different bootie patterns. Oh my, they are all so cute!
With all that said, here's my show and tell for the week...

Sweet and easy sweater that started out in blue, that sad tale is found here. All it needs now, is a little soaky and blocking...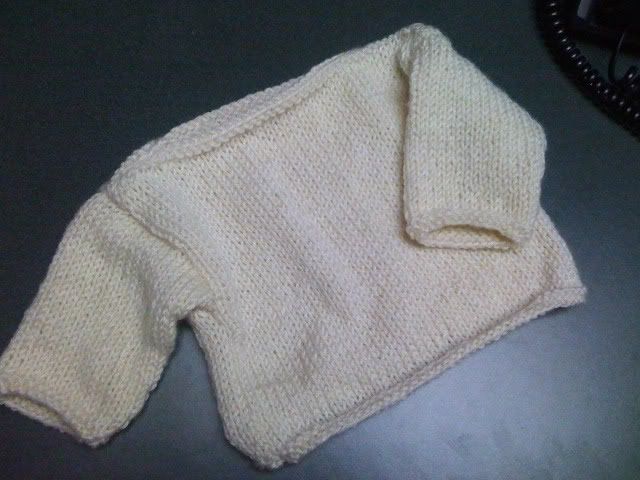 I decided to try Christine's Stay on Bootie (even though the drawing sorta scared me into thinking they would be uuuuggggllllyyy). Used some Socrates (same as below) and I have to say that, personally, I like this pattern even better than the next one.
The famous Stay on Baby Booties. It is an easy and fast pattern that also provides you with directions for 3 different gauges. Yarn used: Socrates in Natural.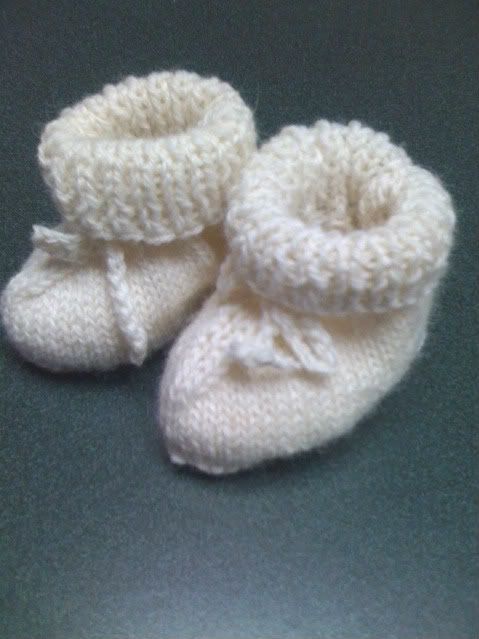 Thennn, I got sidetracked by some scrap yarn. Don't know if these are "boyish" enough to go with the rest of the gift pile, but they are kinda cute. Sorry, I totally forgot to remember what the pattern is, but they are made out of some scrap Himalayan Duke Silk yarn and are soooo soft.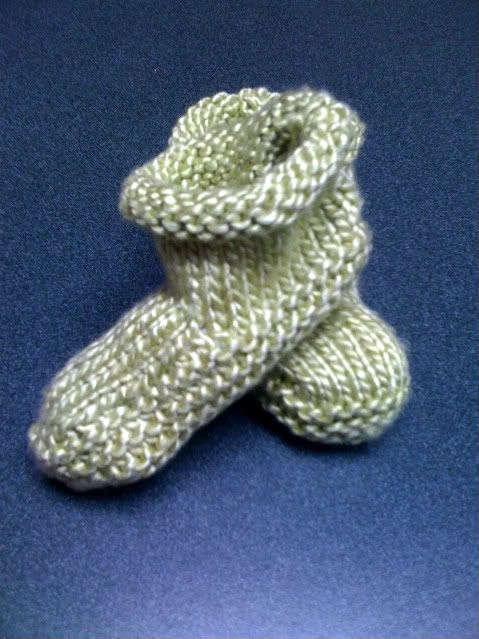 Thennnnnnn, because I am avoiding Dahlia and I ruined my favorite slipper socks sometime last winter (thanks a lot face nailed wood floor), these had to be made (yep, Mini Mochi again because I did not learn the first time!) Turkish Bed Socks...it's what's for feet!: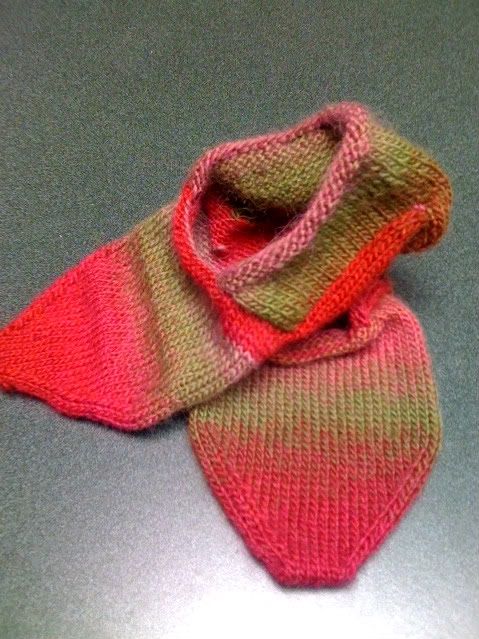 These totally count in the Baby Brigade since I am being a big baby!
And now for the Freaky Find. On Wednesday I refilled the ice trays at our shop. Yesterday when I went to dump them into the ice bucket this is what I found...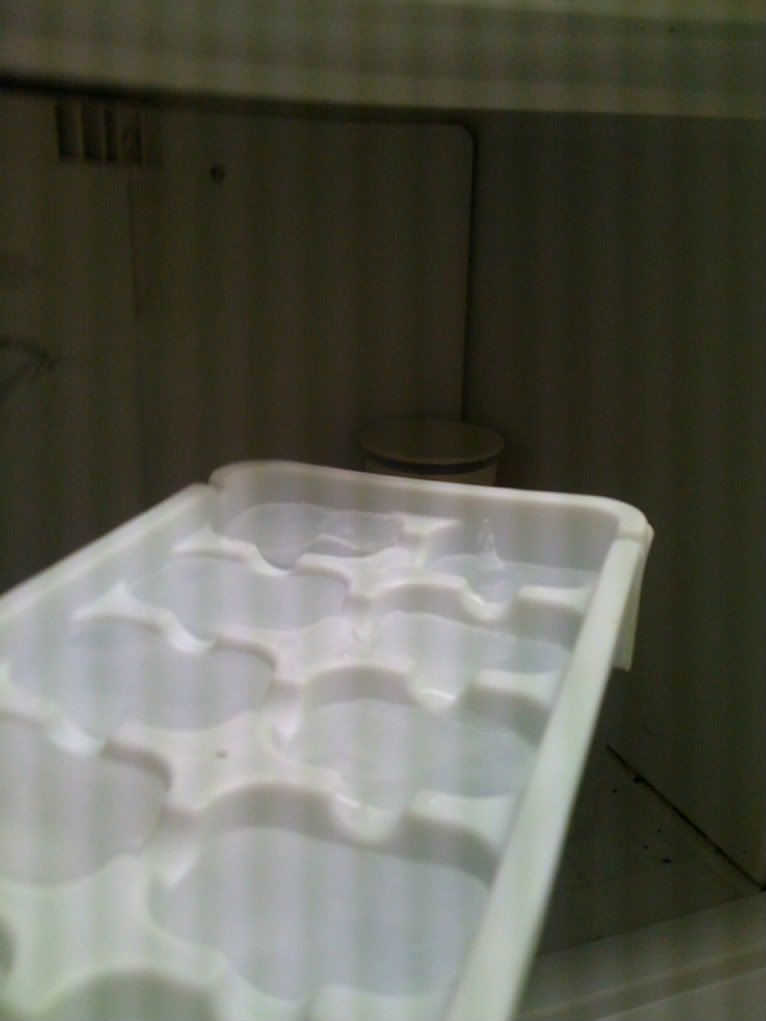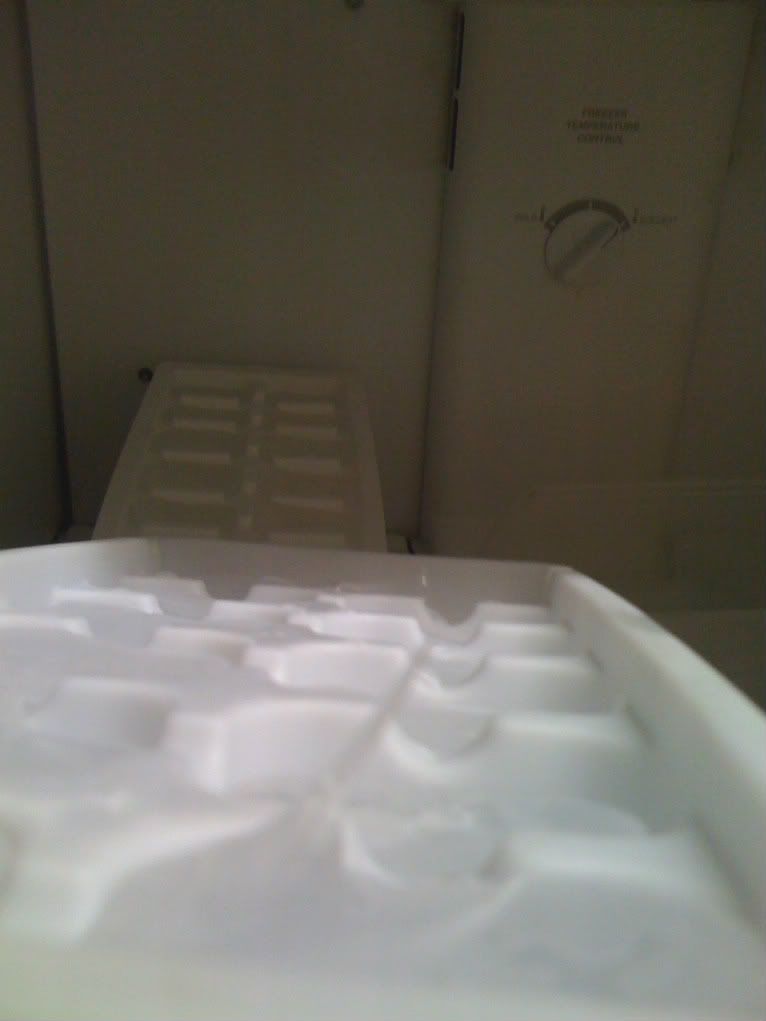 How, exactly, do ice stalagmites form in ice cubes that are in the tray on the top of the stack???
-------------------------