so very subtly veiled as determination and perseverance.
For the last several days, the concept of resolutions has been on my mind. Normally, I don't make New Year's Resolutions, but rather, take stock of what I have accomplished over the last year and how those achievements fit in with the direction I desire for my life. Anyone that knows me well, knows that I ALWAYS have multiples of multiple projects all going at the same time and that I rarely settle for "good enough". Honestly, it is beginning to wear on me. It seems as if, as I normally do, I get a whole lot of things accomplished and they are usually well done, but right now in this current time of my life, I feel the need to slow down and stop the crazy train of activity that typically feeds my soul. Getting older? maybe that's it. I prefer to view it as getting wiser and realizing that going through life at warp speed ALL the time causes one to miss things. Does this mean that I am suddenly going to turn the corner and stop being the over-achieving, uber-organized, driven, perfectionist with scattered attention, not likely. I hope that it does mean that I make better choices that are centered around being true to me and not a creature of habit that merely raises her hand for every challenge/craft/need/volunteer opportunity. It is going to be a challenge to get this "Ado Annie of Volunteers" (as in I'm just a girl who cain't say no when asked to volunteer for this, that, or the other) to change her spots.
How does this apply to the yarny world? You know that drawer/box/basket that has projects stuffed into it that you had to start RIGHT NOW, but sort of fizzled because, OOOOH look at that pretty yarn/pattern/fabric/fiber/craft jumped into your hands? Well, I resolve to purge the yarny ones before I start anything new on needles (okay, going to have to make an exception for one thing...I have to make a baby gift, the yarn is wound, the pattern picked, I just haven't cast on yet). My mind is bursting at the seams with project ideas for my home remodel, personal projects, and my Etsy store. The problem is, I keep getting side tracked by each of them.
So, in the spirit of ridding my craft room of WIPS, here is the first one that I resolve to finish. An Entrelac scarf. It was started, I think, in February of this past year. It wound up stuffed in a cabinet and would come out to play once in a while, but anyone that has done entrelac, knows that if you forgot to mark your place (or more accurately, your sticky note lost its sticky as more and more yarn and fiber got slid across it until it fell off the pattern) it can be a booger to pick right back up again. Now, really, it only requires 2 skeins of yarn (Noro in my case) and is not on teensy needles, get with it Dina!
Coming soon (hopefully next week as I am travelling this Friday and probably should not knit and drive, although how great would that be???) to an FO Friday near you: The Entrelac Scarf: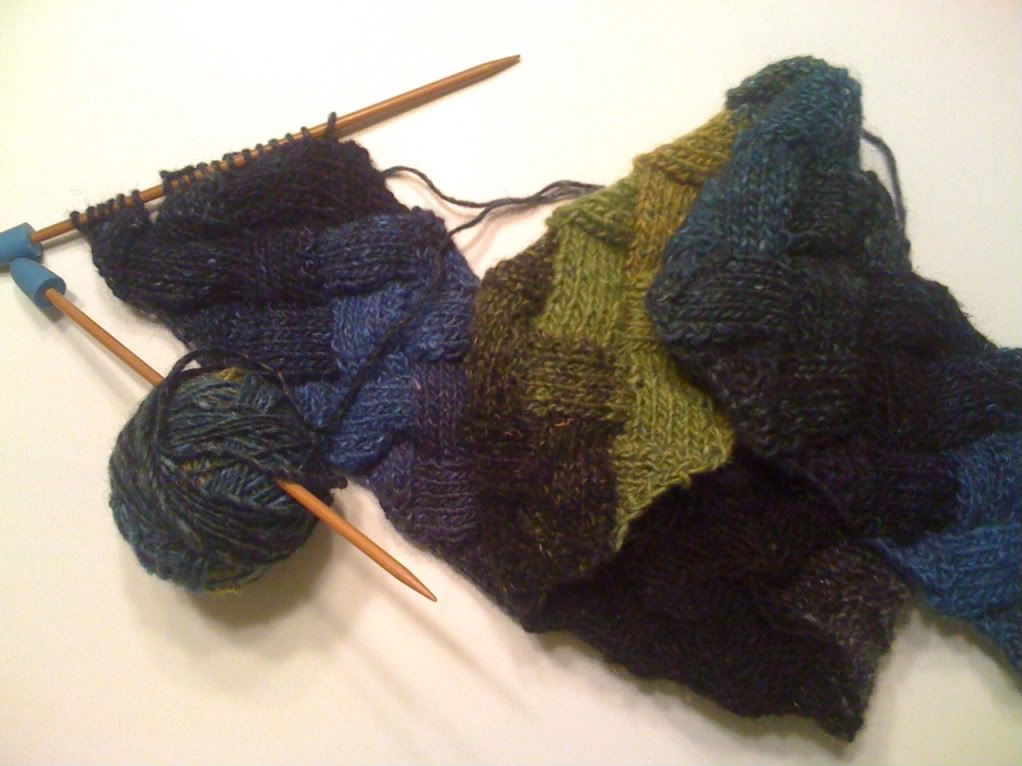 Truthfully...entrelac: been there done that (okay, almost done that), made the scarf.
______________________________________