ahhh, how I wish this post was really about a wonderfully warm and sandy trip to Pensacola and The Dunes. My family took many, many trips to Pensacola when I was growing up. We always stayed at the same place (NOT The Dunes, although we passed it to get to our place). It is January. It is cold. It will soon be snowy, icy, cold and dreary. I.NEED.SAND.AND.WAVES.
Sadly, that will not happen anytime soon, so I am left with The Dunes on my needles. It was started a couple of months ago and is being made with some alpaca I spun and dyed. When it was all said and done there was around 750 yards of the three ply and a small ball of two ply that I will figure out something to make with it.
In keeping with my goal of finishing up some WIPS before starting anything else, The Dunes has taken up residency in my knitting bag. The yoke is done and the first sleeve is nearly done. The pattern is very sparse in its detail and the decreases in the sleeve have given me a bit of a headache as I can (and did) read it a couple of different ways. That being said, both options have been combined to make a go of it and with any luck, I will remember what I did in order for the second sleeve to match. Yes, I could have written down my version while knitting along, but where is the fun in that? So, if, perchance, both sleeves don't look pretty darn close to the same, I will compensate by making sure one arm is wildly flailing about while wearing it. That way, folks will be more interested in my antics and less aware of any sleevy discrepancies.
Sorry for the picture quality. You are going to have to bear with me and my crappy phone pics until I can figure out (and correct) what buttons I pushed on the DSLR which is now not cooperating at all.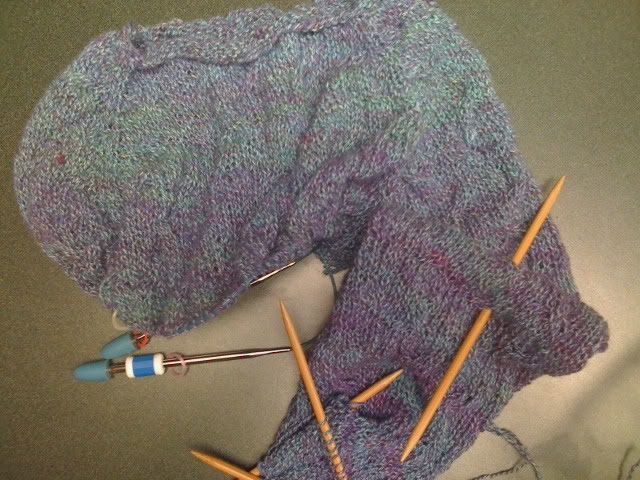 The sweater has small cables all over and the yarn is ridiculously soft. DUH! it's alpaca!! Even though my dying did not turn out exactly as planned, I have to say that I rather love the way it looks. Will it be done by Friday, doubtful. There is a secret fear lurking in my brain...I will run out of yarn...
My dearest and his father are currently working on grouting the slate floor in the front area of the shop and something tells me that sanded grout is the closest I am going to get to sand for a while. A girl can dream...
-----------------------------