I owe Sophie an apology. This time anyway.
When Sophie gets mad about something...most recently because her role as Queen Cat of the House has been usurped by Amos the Awesome...she chooses to pee on the rug in front of the litter box. Nice, huh? I have long since resigned myself to washing this rug (even though it is wool, but after so much cat pee what difference does it make) on a regular basis. Fortunately, the detergent and rinse agent I am using eliminates all traces of odor.
Sunday evening I placed the rug back in its rightful spot and all was good. Yesterday morning I did my usual poop scoop and sweeping up of scattered litter and the rug was fine. Sophie, along with Amos, Norman, and Bella were still snoozing in our room. While fixing my breakfast, Ashley appeared (she is normally a scaredy, hidey kitty, but we are working on that). Scooped her up before she could run off and, hmmmm...her back leg is wet. Oh well, she probably tried to stand in the water bowl. No. Wrong. Incorrect.
Upon returning to the laundry room to check the dryer, what do spy? A not so lovely pee spot directly in front of the entrance to the enclosed litter box!
I am sorry Sophie. Maybe you aren't the only kitty with an attitude problem.
All of this ultimately led me to finally decide to make a couple of cat rugs.
Last summer when I was still dreaming of getting my spinning wheel, I bought a boatload of fiber during
this
adventure. The gray/purple roving bowling balls ultimately were all spun up on my wheel to the tune of just over 2000 yards of about a DK weight.
Fast forward to now, when my spinning skills and choice of fibers have exponentially improved since that time. To be blunt, what I have in my possession is a whole lot of yarn that I would not knit up into something wearable for even my worst enemy...tempting though that may be. What am I going to do with it? Sounds like the perfect choice for cat rugs...after all they (at least two) are just going to pee on it!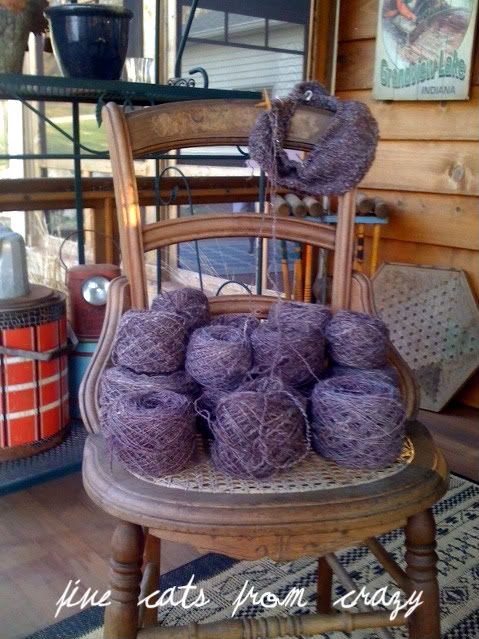 Use of this yarn for "just a cat rug" is not a waste. I gained valuable knowledge in both my spinning and in fiber choice.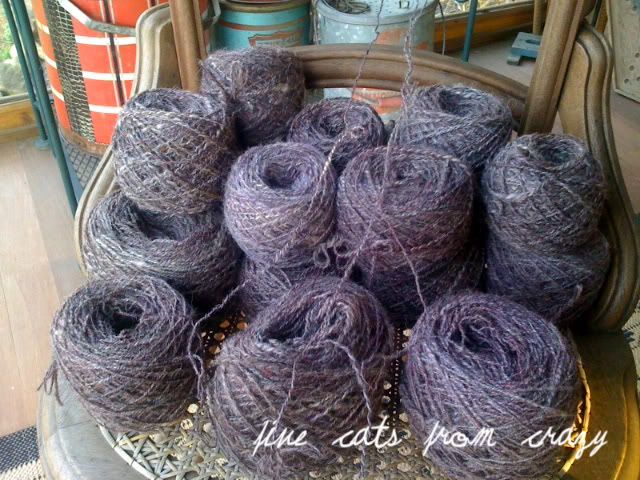 It still was a labor of love that will benefit my fur babies.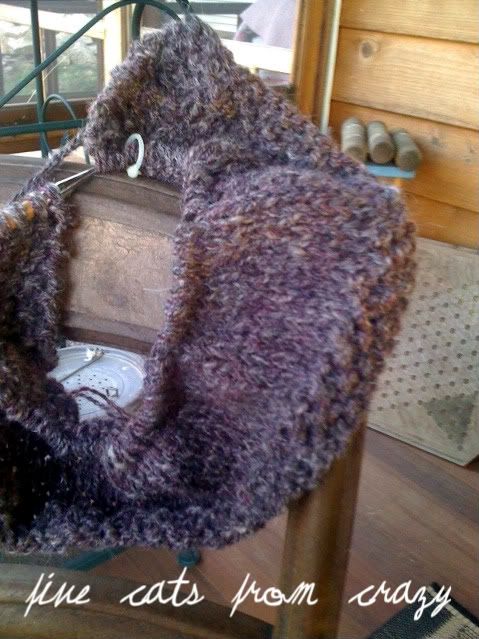 Easy peasy along with the bonus of my hands getting exfoliated by the scratchiness of the yarn while knitting. I am holding a triple strand and using 10 1/2 US needles. Cast on 70. Four rows of seed stitch, then remaining rows: seed stitch in pattern for first four stitches, stockinette, last four stitches in pattern for seed stitch and when about an inch from desired length finish off with four rows of seed stitch.