almost. The baby blanket is plugging along as fast as my little fingers will fly, but I feel like I am racing Mother Nature. Baby-to-be is still staying put and hopefully this thing will be finished, blocked, wrapped and sent off before the little darlin' makes his appearance. Row 28 of 33 and then...YAY!!!...picking up
656
stitches for the lace edging that is ONLY a 12 row repeat.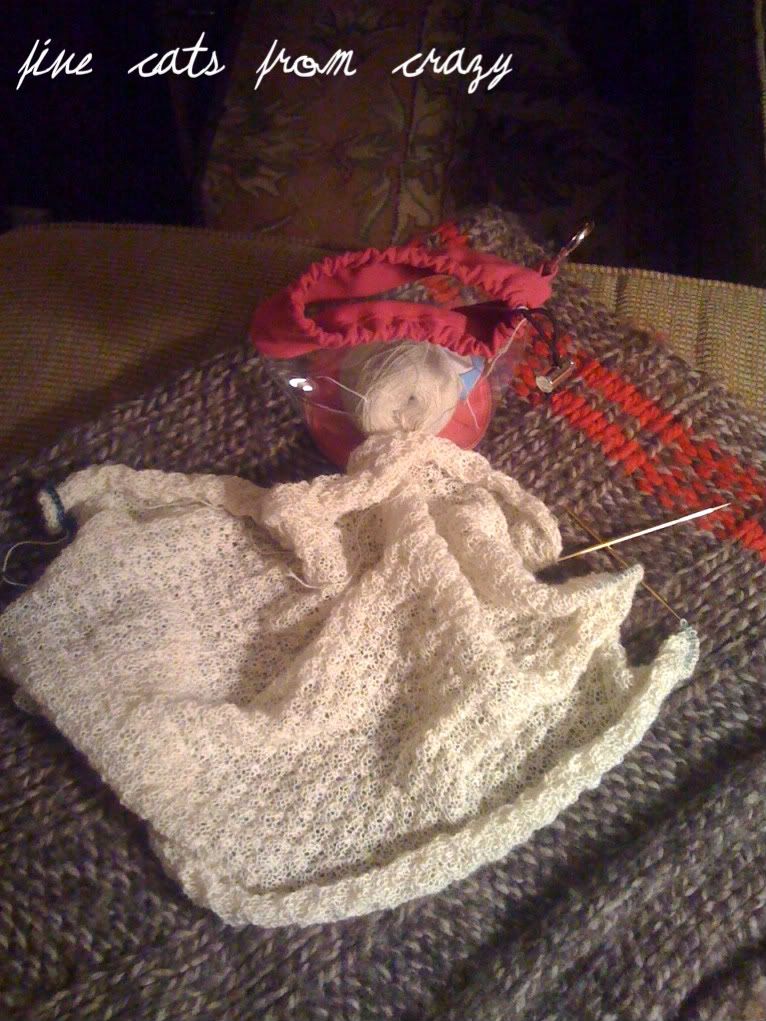 Any spare time has been split between furiously knitting on this and spinning luscious fibers into yarns for my Etsy store (with any luck the camera lens will come back from the camera hospital soon so real pictures can be taken for item listings). My left thumb is getting quite the work out. My thumbs are weird...it is almost as if they are double jointed as they can pop out and wind up in odd positions. This comes in handy when I am playing the piano as it makes it easy peasy to span more than an octave, but for long stretches of spinning or knitting with slick needles and lace weight yarn it becomes a problem when they lock in place and my hands go numb.
The last several months certainly have been filled with loads of baby knitting which makes me want to stand in the baby aisles of Tarjay and sniff all the baby smelling things. My LYS is holding a KAL for preemie baby hats. Ahhh, the memories that triggers. My youngest sons (identical twins) were premature and also had Twin-to-Twin Transfusion Syndrome, where in simple terms, they share the blood source resulting in one baby being a donor baby of a large portion of the nutrients to the other recipient baby. It is common for one or both not to survive. As my boys had the same head circumference on ultrasound, this condition was missed until their emergent premature delivery. There was a 1 1/2 pound difference between them at delivery. The recipient baby is often more "sick" than the donor which was the case for my guys. Bringing home an itty bitty baby boy (seriously...I had to block the leg holes of the baby swing for fear of him shooting out one of the openings!) and leaving the other one in the NICU is a frightening experience. Preemie clothes were too big for quite some time, as were preemie diapers. I had no teensy baby hats and resorted to using cut down tube socks. It seems like a lifetime ago, but also as if it was just yesterday. Today, they are wonderful, silly, fabulous, smart, goofy, sweet, ornery young men on the cusp of going out into the world. They will be 18 in July and I am so proud of my little babies. They, along with their older brother, are my best "works in progress".
---------------------------