The Knit Girllls
have a group on
Ravelry
and host a series known as "Expand Your Horizon". The fiber for April's SAL is Masham. Never heard of it until joining this group.
According to
Sheep 101
this breed of sheep is over a century old and is produced through the cross-breeding of a Teeswater ram and a Dalesbred or Swaledale ewe. The staple length can vary from 6-7 inches on up to 8-10 inches long. It typically has a nice lustre. The staple length makes it a nice fiber for a beginning spinner.
A week ago, I ordered some beautiful
Herb Green Ombre
batts. When they arrived, I was happily surprised by the beauty of the colors and the lovely feel of the fiber.
There is a subtle barny/sheepy smell to the fiber that is really quite pleasant.
After fondling and sniffing, I decided to divide the batts to hone my abilities in the area of fractal spinning. Fractal spinning, in simple terms, is the division of the fiber to create more precise color repeats/striping in the final knitted project. Each color was split in half (yes, I broke out the scale for precision). One half of each color was set aside and will be spun in the ombre progression. For the other half of each batt, I further divided each into four more mini-batts. This will allow me to spin (on a separate bobbin from the first division) four consecutive repeats. When it is time to ply, this should allow for the creation of very long color repeats, with some barber poling, which when knitted up should re-create the original ombre color progression.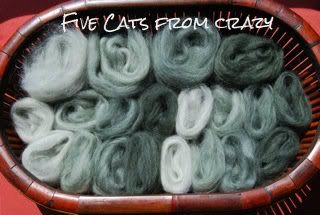 Bella approves...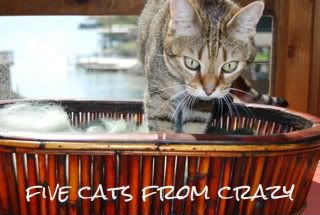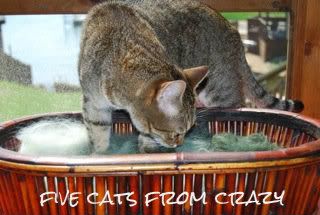 Spinning has started and so far, so good. Final product should be a two ply fingering weight.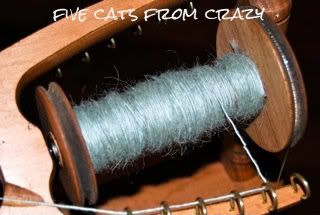 As of last night, all 4 of the larger blobs have been spun and the first portion of small blobs is spun up on a new bobbin. Darn it!...looks as if I need to do a little shopping for a Jumbo Flyer for Minerva to allow all of the singles to be plied onto one bobbin.