Is there some point at which a yarn says, "Uncle! I quit! Stop making me into different things!"? If it could talk, I'm pretty sure that is what the Alpaca with a Twist/ Touchdown would be saying right about now.
Guess what? Do believe it is going to get its wish...maybe.
Two weeks ago I got a little cocky with my progress on the
Rocky Coast Cardigan
and went so far as to mention to a commenter that it would surely be done by the weekend and ready to unveil for the next week's FO. Ha!
What really happened? One sleeve was done down to the spot where I needed to switch to ribbing, when it occurred to me that I should probably check the fit. Yeah, I have learned nothing. The body of the sweater was knit in size small, so surely the arms would be okay also, right? If I had TOOTHPICKS for arms!!! There was no way on earth that any amount of aggressive, severe, intense, or even belligerent blocking was going to fix this problem and the likelihood of my arm circumference shrinking drastically any time soon was even more remote.
<hanging my head and smacking my forehead> Yep, rip and redo the sleeves in the medium size directions. This little alteration required some tweaks that I had the forethought to write down in order for the second sleeve to resemble the first one.
You know what this means don't you? I have made yet another sweater in size Smedium. The only difference is this time it was sort of intentional.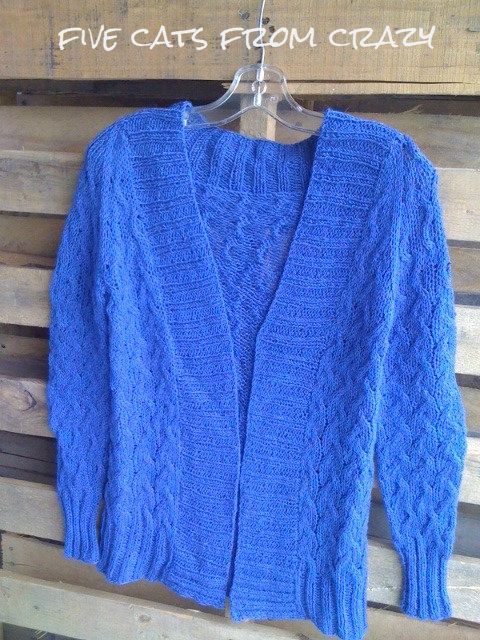 And in keeping with the cocky attitude, I was soooo proud of myself for keeping the cable repeat in pattern. Until...I looked closely at a picture of the back that was about to go up for the whole wide bloggy world to see and judge. Hmmm, what to do now? At present, my hair is so long that you would never see it and perhaps if I constantly wiggle and thrash about my antics will distract from what jumps out at me in an evil taunting way.
One final word on this situation: RATFARTS!!!
------------------