Nearly a year ago, I spun some lovely grey suri alpaca that I got from
Hoosier Heartland Alpacas
. It is yummy stuff. As soon as I started spinning it, my mind began the questioning process...what did it want to become. After many hours on Ravelry, the perfect pattern was found.
Ephemera
mittens was the one. This pattern calls for a 100% alpaca yarn that is a single ply. Typically, I do not like single ply yarn because it simply does not afford the durability that I require. My grey suri is a two ply yarn with just a hint of over twist, but nothing extreme, and should be a sturdy yarn.
About the time I finished spinning all the grey suri, I had a complete brain malfunction and forgot the name of the pattern, couldn't find it in any of my usual stash spots, nor could I find it on Ravelry as I forgot to save it to my favorites. So, the yarn sat around for several months waiting for me to have a revelation of pattern proportions. THEN, I remembered, and decided that the mittens also needed a touch of black striping. Back to get more black fiber to spin, finished it and set everything aside as my world exploded with the twins graduating high school, summer plans, double military enlistments, and life in general.
Now that the weather is turning cold enough for me to think about wanting mittens in the morning, it seemed the time to dig everything out, including the hide and seek playing pattern. Wouldn't you know it? NOW, I have no idea where that skein of black handspun suri is hiding. I have looked in every basket, drawer, cabinet, box, and various other stash hiding spots. I did not dream it. I know I did it. Wes remembers me doing it and holding the black and gray together for comparison. It will turn up as soon as I finish the second mitten!
Sunday evening, I cast on for the mittens. This is a super simple pattern. The fabric being created is dense, yet soft, and will offer great cold protection. Today at my knitting group I finished the bulk of the first mitten, just need to finish out the thumb.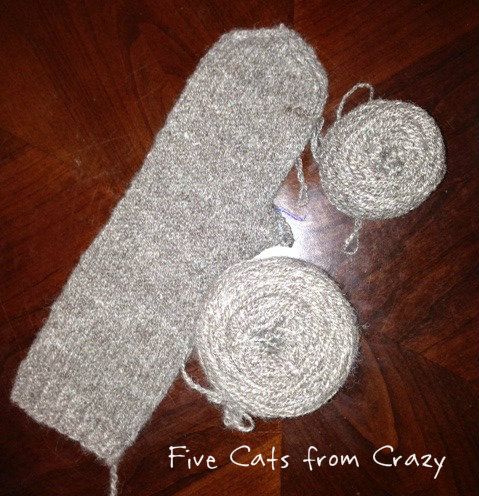 Of course, you realize that it would not be a knitting project of mine without some silly pattern snafu. I was patting myself on the back for how nicely the mitten was turning out. I have very small hands and hate floppy mittens. This pair is actually going to fit my hands absolutely perfectly. So, while I was smugly praising myself and looking over the pattern, I found it. I am knitting these on US 4's and the handspun is a light worsted weight, so of course the fabric is dense. In my haste and excitement to get these started I read the needles required as US 4 instead of what is really written: 4 US 6 dpn. <slapping forehead> Whatever! It's working and that's a thumb's up in my book!
-------------------------